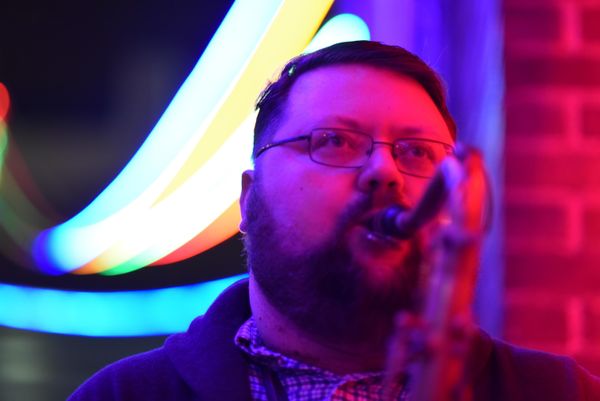 Saxophonist, composer, and arranger Dr. Bobby Fuson II was born in Corbin, Kentucky and raised in Frederick, Maryland. A product of public school band programs, he picked up the saxophone at age 10 and was soon performing with local jazz ensembles and honor groups.

He studied with Baltimore saxophonist Howard Burns, David Threlkeld of the University of the Cumberlands, and Dr. Paul Haar of the University of Nebraska-Lincoln. He studied jazz composition and arranging with Dr. Eric Richards and pursued additional studies with Jerry Coker and Donald Brown.

In 2011 Bob was awarded a grant to study with world-renowned saxophonist Jeff Coffin of Bela Fleck and the Flecktones, Dave Matthews Band, and the Mu'Tet.

As a performer Dr. Fuson has played with big bands throughout the southeast. He is an original member of the London Jazz Orchestra (London, KY) and has performed with the Streamliners (Knoxville, TN). At UNL he performed in the Graduate Jazz Combo (Gradtet) and the Jazz Orchestra, ensembles which have garnered national praise and reviews, including awards in Downbeat, the KU Jazz Festival, and the Elmhurst College Jazz Festival. He appears on the UNL Jazz Orchestra albums Homegrown (2012) and The Good Life (2017).

Performances include concerts and masterclasses with George Stone, Harry Allen, Bill Watrous, Antonio Hart, Matt Penman, Avishai Cohen, James Moody, Greg Abate, Rex Richardson, Gary Smulyan, Zim Ngqwana, Jeff Coffin, Scott Wendholt, Clay Jenkins, Andy Classen, Hans Sturm, Chris Vadala, Mike Tomaro, and Jamey Aebersold. In 2009 he premiered "White Noise" by Australian composer Ralph Hultgren as principal saxophonist with the Kentucky Intercollegiate Band. His other premieres include the debut of "Treelines" commissioned by Christine Jensen and premiered with the composer and her sister, acclaimed jazz artist Ingrid Jensen, in 2011. He is sought after as an arranger and has arranged for numerous Kentucky high schools and the University of the Cumberlands "Pride of the Kentucky Mountains" marching band.

He is a founding member of contemporary saxophone quartet TCBSQ, which recently premiered two new works at the NASA Region III Conference in Brookings, SD in March of 2017. A never-heard-before arrangement from the Well-Tempered Clavier done for sax quartet by Percy Grainger, and a new work by Daniel Baldwin titled "Vortex" filled out the inaugural performance of TCBSQ.

His compositions have been published by UNC Jazz Press and premiered by the University of Nebraska Jazz Orchestra, the University of Nebraska Small Jazz Groups, the University of the Cumberlands Jazz Ensemble, as well as his own quartets, quintets, and septets.

Dr. Fuson's research is focused on the life and works of LeRoi Moore, saxophonist and co-founder of the Dave Matthews Band. He has lectured across the country on the saxophonist's unique place in American music in a talk entitled "LeRoi Moore - the Unknown Titan of American Music." His dissertation is a biography of the late saxophonist. It is the first and only academic document on Moore, making him the foremost researcher on the subject.

As a lecturer Dr. Fuson has appeared at the 35th and 36th International Saxophone Symposiums hosted by the United States Navy, and performed at the 35th Symposium as a member of the Heartland Saxophone Quartet. Recently he lectured at the North American Saxophone Alliance Region 3 conference at Drake University. He has also given lectures and masterclasses on the subjects of improvisation and jazz history throughout Kentucky, Tennessee, Nebraska, and Iowa, as well as at the University of the Cumberlands and the University of Nebraska-Lincoln.

He is the proud father of three boys - Carter, David, and Theodore - and happily married to wife Ashleigh. Outside of music he is a history buff and sports fan.

Dr. Fuson is the Instructor of Woodwinds at Hastings College, where he teaches all applied woodwinds, woodwind methods, and ear training. He received his Doctor of Musical Arts in Jazz Studies with a related area in Music Theory from the University of Nebraska-Lincoln, as well as a Masters Degree in Saxophone Performance with an emphasis in Jazz Studies. Dr. Fuson also holds a Bachelors of Science in Music from the University of the Cumberlands.